Tribal Immunity Artist of the Week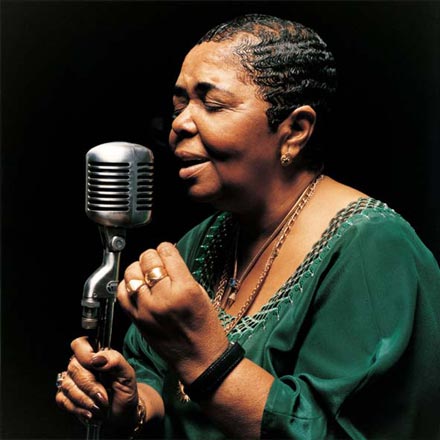 Genre
: Morna, Coldeira, Fado
Origins
: Mindelo, Cabo Verde by way of Angola
Similar Artists
: Tito Paris, Bau, Lura, Tcheka, Mariza, Mayra Andrade, Maria Alice
Albums
:
La Diva Aux Pieds Nus
(1988),
Distino di Belita
(1990),
Mar Azul
(1991),
Miss Perfumado
(1992),
Cesária
(1995),
Cabo Verde
(1997),
Café Atlantico
(1999),
São Vicente di Longe
(2001),
Voz d'Amor
(2003),
Rogamar
(2006),
Radio Mindelo
(2008),
Nha Sentimento
(2009)
Coming from the islands of Cabo Verde, Cesaria Evora has been the center of the Lusophone [Portuguese speaking] music scene for over 20 years. Also known as the Barefoot Diva for performing without shoes, Evora embodies elegance with a voice that needs no translation. Cesaria has such a beautiful and lush contra-alto vocal range, singing of Cabo Verde and Africa while enchanting her audience with songs of love, heartbreak, bliss, and nostalgia. She has influenced a generation of Cape Verdean performers as well as artists from all parts of the continent. Known as the queen of Morna, (a music and dance genre native to Cape Verde) her music has caught the ears and attention of audiences around the world.
For more on Cesaria, check out her website @
http://www.cesaria-evora.com/
by Nana B.